Wire harness and sheet metal flattening services by
US Flat Pattern
The internet's best off site engineering source!
Las Vegas, NV 89103 - Phone: 1-702-610-9748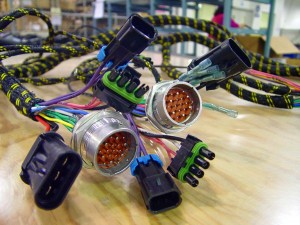 Our manual form board process insures you get a nice, clean, 2D layout with everything specified in color or black and white, right on your build pattern. Connector keying and orientation can also be provided.
Traditionally we used automated form board programs which gave us some generic stick drawings that were lacking a quality look. This has changed. Our new form boards are calculated out to .001" or less on all segment lengths. All embedded information from your customer is included, right on the form board layout. Wire segments show harness thicknesses, final connectors with the connector callouts, connector keying, wire information as well as crimp and strip lengths when provided. Everything is included at full scale for full length printing on 36" roll stock. Put our patterns on your workbenches and follow the pattern. It is as simple as that.
We offer complex surface flattening (Unigraphics NX Series products) and unfolding (Catia products)
Many of our customers are involved with rubber gaskets for aircraft enclosures. We provide excellent services in this area. In addition to 2D flat patterns and 2D inspection drawings, we can also provide 3D flat pattern tool designs
Sealing gaskets with raised seal edges can be flattened and then reformed in the flat state.
Fabric seat pattern flattening can be performed here based on your weave count and weave direction.
We offer sheet metal flattening of solid models (Catia, Solid Edge, SolidWorks, Unigraphics).
If you want it flat, you want it now and you want it right, call us at 1-702-610-9748. We will give you a great rate and we will get it done correctly the first time.
---
US Flat Pattern is a US company authorized to perform DOD and US Government work. All of our employees are US citizens, living in the US, under DOD Warning Banner NDA's
We are listed with Lansing, Dunn and Bradstreet and CCR. We do not outsource.
---
US Flat Pattern
Las Vegas, NV 89103
Phone: 1-702-610-9748
Email: data@usflatpattern.com
Multiple payment methods: EFT, purchase order, check or credit card.


US Flat Pattern
Copyrights: 2002-2018. All rights reserved
---
Send mail to
data@usflatpattern.com
with questions or comments about this website or page.
Many pages on this website feature links to other sites, some of which are operated by companies unrelated to US Flat Pattern US Flat Pattern has no control over the content or availability of any linked site. Please contact us if you encounter any problems originating from our site or links on our pages.